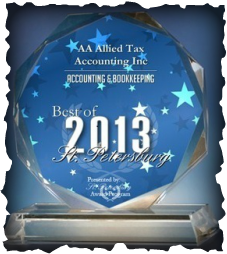 AA Allied is an accounting and tax preparation firm started in St. Petersburg and moved to permanent located in Seminole Florida.
At AA Allied we believe that in all times all Businesses rely on up to date, accurate and insightful financial information in order to back up the business going concern and to maintain profitability and capitalize on new opportunities. We at AA Allied steer you closer to these goals with accurate record-keeping and reporting as well as support on financial issues.

We understand that it can be frustrating trying to understand the Tax Language, Laws or handling paper work so first we will understand your need and background, then custom tailor an initial accounting system setup backed with a low cost and affordable services. These services include but are not limited to:
Accounting & Bookkeeping
Payroll Processing and Payroll reports
Bank reconciliation
Financial Statements (Profit & Loss, Balance Sheet)
State Tax Filing
Federal Tax Filing
Business Planning and Start-up

Licensing, Incorporating or LLC (Limited Liability Co.)

AA Allied currently serving Tampa Bay area (Pinellas, Saint Petersburg,Tampa) also several other Counties in Florida State and other States.
We at AA Allied understand that running a business and keeping up with all Paperwork, Taxes, Federal & State Regulations is a very hard task and time consuming. We at AA Allied are prepared to take over some of that work load so business owners will concentrate on other important tasks to help their business growth.
AA Allied ready with a low cost Business Start-up plan to assist you in getting your business Registered and obtain the necessary Licensing. Our staff and years of experience are ready to tackle your business needs.
---